Telluride Colorado is the best ski town with the best skiing and the best self-guided "then and now" tour anywhere. It has so many well preserved sites that it will take three months to tell the whole story. Not surprisingly, the core district was designated a National Historical Landmark in 1964. It also boasts the second-oldest alternating-current power generating plant in the world (1895) The oldest is eight miles away in Ophir. Telluride's main street is Colorado Blvd. and is seen here in a photo taken in 1892.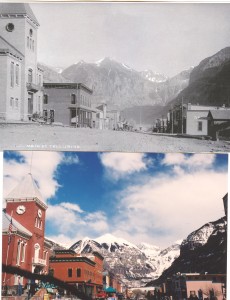 Telluride was founded because of large gold strikes in the surrounding mountains. Getting miners and equipment up to the mines was a challenge. In this 1897 photo we see 52 mules carrying 10,000 continuous feet of cable for a mine tramway. The cable weighed 17,000 pounds. (Click to enlarge)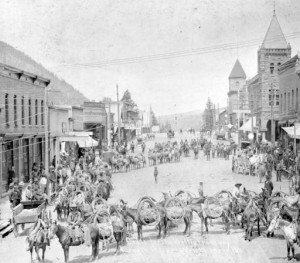 Hose company races were a big pastime as seen in this July 4, 1909 photo.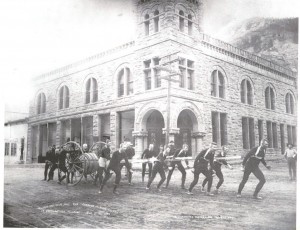 In 1914, Cornet Creek just north of town flooded and deposited as much as eight feet of mud inside stores. In an ultimate irony, the First National Bank seen in both photos had been constructed using mud from the same creek!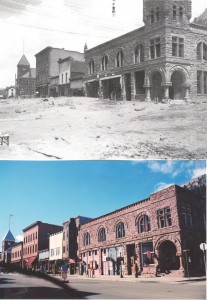 Cornet Creek falls off a cliff forming a beautiful waterfall as seen in this 1907 photo. A strenuous hike is worth it for the view.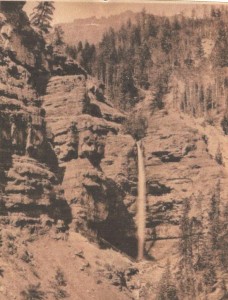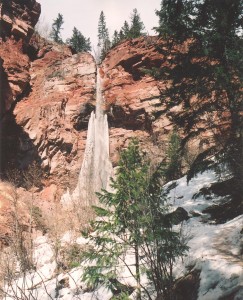 Here is another view of the flood damage from 1914 with the Community Hospital (now Telluride Museum) in the background.